Exciting news!
We are thrilled to announce the strategic cooperation between BWSC and Unit Power Service Ltd.
 
The agreement was signed at the beginning of this month at BWSC headquarters in Allerød by our Boiler Service Director, Søren Hubert Petersen, the UPS Operations Director, Simon Fishwick, and UPS Managing Director, Stephen Atkinson, and additionally supported by our Boiler Service Managing Director in the UK, Collin Jones.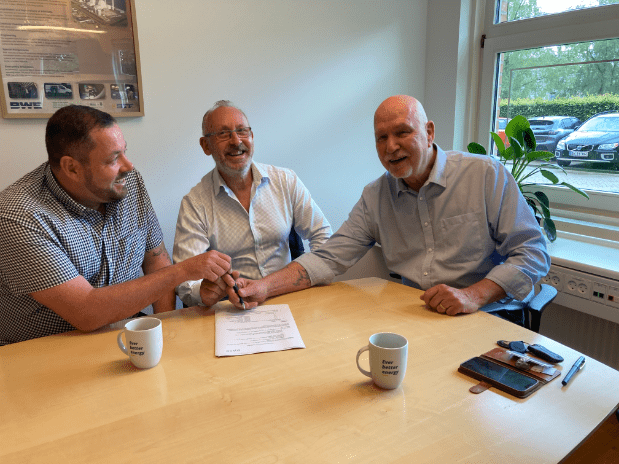 The alliance between BWSC and Unit Power Service builds upon our long-standing history of successful partnership in the UK market. This strategic cooperation is designed to further strengthen our combined capabilities and provide our clients with access to highly qualified on-site staff and specialized design, engineering, and process competences.
 
As a result of this cooperation, we can now offer our UK clients a comprehensive range of Boiler (fossil, WtE, biomass) plant solutions, including life-time extensions, modifications, and efficiency improvements.
On top of traditional Boiler services, we are now also able to provide other solutions such as High-medium-low voltage services and DCS system services.
 
BWSC looks forward to working closely with Unit Power Service to elevate our services and better serve our clients in the UK market.
 
To learn more about our current boiler solutions, visit our Boiler Solutions page here.
---
Unit Power Service is a leading mechanical engineering contractor, specializing in new construction and repair and maintenance activities for major national and international clients. Their expertise encompasses on-site installation of mechanical equipment, including Heat Recovery steam generators, steam boilers, firing equipment, fans, pumps, compressors, ductwork, pipework, and valves.
In addition to their impressive installation services, Unit Power Service offers comprehensive repair and maintenance solutions, such as boiler overhauls, statutory inspections, plant modifications, equipment retrofits, and 24/7 call-out support. Their wide-ranging experience extends to green-field and brown-field sites, including power stations, new build constructions, and Energy from Waste facilities.